What is the difference between online marketing and digital marketing?
Understanding the differences between digital marketing vs. online marketing will help determine the best investments to make for your business. While digital marketing will show more immediate, upfront results with a lower ROI, online marketing focuses on longer term performance and results, strengthening a business's brand and online image over time.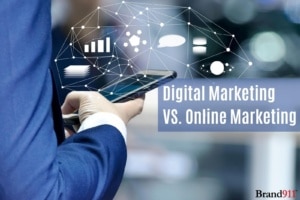 The difference between digital marketing and online marketing has created confusion for many businesses goers and marketing professionals. The aim of this blog is to breakdown the differences between the two in regards to what they are and how they are used when it comes to new age marketing. 
Is digital marketing the same as online marketing? 
Since the creation of the internet, the world of business has turned into an ever evolving world of its own. When it comes to business, how you market online can be a making or breaking point for your business's growth and success. 
That begs the question, "what is the difference between digital marketing and online marketing anyway?" 
What is digital marketing? 
Digital marketing is an umbrella term, and a component of business marketing that involves online technology to help spread brand awareness. Digital marketing strategies include, but are not limited to: digital advertising, social media advertising, short term online advertisements, email marketing, affiliate marketing, mobile ads and more. 
Examples of digital marketing:
Digital advertising

Social media advertising 

Google ads 

Email marketing 

Affiliate marketing 

Mobile ads

Text updates 
Digital marketing is usually a continuous cost for businesses with immediate, but short term results. A large upfront cost is usually associated with this form of marketing, that takes continuous attention to detail and repurposing materials and ads to help keep campaigns going. 
What is online marketing? 
On the other hand, online marketing focuses more on long term results by paying more attention to quality content that is built to perform long term. Online marketing is a more long term approach to advertising that strengthens your brand overtime, with less concern of continuous upkeep. The competitive advantage of online marketing is its association with long term results and lower investment costs. 
With lower costs and higher return on investment, online marketing is a predominant form of marketing used by businesses and brands looking to outperform competitors in present time, and in the future. 
Types of online marketing: 
Press releases

Content marketing 

Reputation management 

Content optimization

Search engine optimization

Online profile management 
Online marketing is a more specialized approach for each individual brand, but more long lasting results follow when utilizing this type of marketing.
The difference between online marketing and digital marketing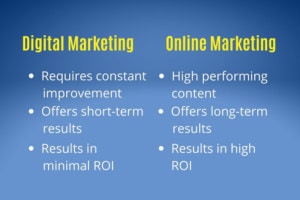 Why is understanding different marketing strategies important? 
Marketing and advertising costs are one of the first places that can become a pitfall for startups, local, and small businesses. Even larger businesses can fall flat without proper marketing strategies in place. 
When it comes to marketing in 2020, creating a strong online presence for your brand is more important than ever. Whether it be with digital marketing, online marketing, or a combination of the two, results will differ.
The impacts of Covid-19 on digital and online advertising
In this day and age, who you are online matters, especially when it comes to business. Following the economic impact of social distancing and quarantine requirements in 2020 during the Covid-19 pandemic outbreak, people were forced to stay inside, but the internet is never closed for business. 
Compared to 2019, daily mobile internet usage has risen by 124 million unique users across the globe everyday. When the world shuts down, our technology still allows us the ability to stay connected, even with our favorite brands and businesses. 
Is online marketing better than digital marketing?
Now, more than ever, the emotional connection behind your brand to the consumer is what truly separates you from the rest of the competition, and that means quality matters. 
Online marketing allows a business to build a brand that revolves around trust, like-ability, and expertise. Digital marketing is more focused on short term goals, like gaining followers, likes or pins. However, online marketing has a much stronger end result, allowing businesses to build a brand that naturally strengthens over time in a much more significant way. 
Online marketing strategies 
Online marketing utilizes strategies that yield long term results. These strategies include a more thorough approach in comparison to digital marketing. Creating insightful, readable, and creative content, combined with increasing organic search results, are usually the main goals.  
Unlike traditional digital marketing, online marketing builds upon layers of strategies, creating a web to support your branded content so it doesn't fall flat down the line. This means spending less money long term, by creating content that is made with SEO in mind to beat out competition now, and down the road. 
Creating a website that can
actually
get found online
Having your own personal website that is built to support a strong brand and actually get you found online is the best way to strengthen your online marketing.
There is endless information online supporting just how important it is to have your own personal website in this day and age if you are a young professional, entrepreneur, business owner or executive looking to improve your personal brand and receive more opportunities. 
The difference is, creating a website that is not online beautiful, but can easily be searched for on Google by those who are looking to connect with you. All too many times, large amounts of money are spent on beautiful web designs, but the end results aren't easily found with a Google search. 
Creating a website that can get found online takes attention to details in forms of content writing, optimization, and branding efforts that can guarantee results. 
Content optimization and SEO strategies
Odds are if you're a business owner familiar with the online world of marketing and advertising, you've heard the term SEO. Utilizing search engine optimization (SEO) techniques is crucial to building a strong brand online. This includes the SEO of content on all of your online platforms and websites, including text, images and videos so they can easily find the right audience when searched online.
Improving Google ranking and search results
The ultimate end goal of online marketing is to improve your organic search results on Google or any other search engine. By improving your overall google ranking, you increase your chances of landing as the first results when your business or brand is searched on Google. 
Google ads can become incredibly expensive with minimal return on investment, easily becoming a money pit for your business. By improving your Google ranking with the help of Online Marketing, you build content that is meant to climb the ladder of Google, and outperform any competition. 
Online PR services and strategies
Online PR services like PR Search Engine are designed to help businesses and brands create long lasting newsworthy articles with the purpose of improving linking to the businesses website and profiles, associate the brand with desired keywords, and create sharable and engaging content.
About us and this blog
We are a digital marketing company with a focus on helping our customers achieve great results across several key areas.
Request a free quote
We offer professional SEO services that help websites increase their organic search score drastically in order to compete for the highest rankings even when it comes to highly competitive keywords.
Subscribe to our newsletter!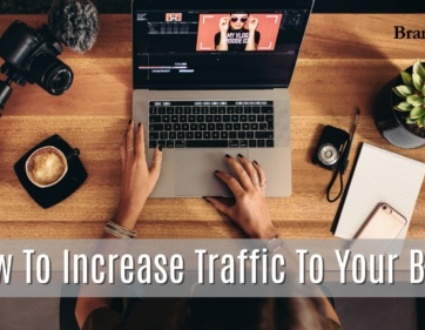 Most recently updated on May 25, 2023. Are you struggling to drive…
[easy-share counters=1 counter_pos="inside" native="no" hide_total="yes" fullwidth="yes" fullwidth_fix="100"]