What is Personal Branding? 
Personal Branding involves building up the online reputation of an individual based on their own unique assets, traits, and image. 
Building a strong personal brand requires different techniques both online and offline. Here at Brand911 the focus remains on the branding of an individual online, in order to improve their opportunities and success in the real world.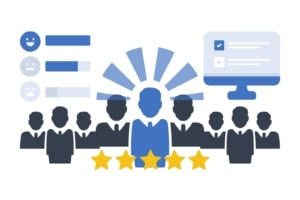 Key Components of Personal Branding 
Creating a strong personal brand online involves much more than just adding a Facebook and Twitter page to help expand your online presence. Though it might seem like a daunting task to create an online persona built for success, with the right tools and direction it can be a process that continues to serve you for years and years to come. 
Key Components Include: 
Discovering your uniqueness 

Defining your message 

Optimizing your online presence

Gaining credibility to your name

Expanding your reach
Why Does Personal Branding Matter? 
Personal branding is not to be confused with business branding. For example, business branding might involve the reputation of a small business, whereas personal branding would focus on the reputation of the business owner themselves. 
But why is it important? The truth is, people want to trust the ones they connect with. Whether it's in order of doing business, hiring an employee, accepting a student into college, or even befriending a new colleague. 
Why People Invest in Personal Branding
1. Odds Are, Someone is Googling Your Name. 
In this day and age, everyone has access to finding out who you are with a simple Google search. If someone wants more information on you, they're going to go straight to the internet to get their answer - but what will they find? 
Regardless of your profession, status, or education level, there is always going to be someone screening you online.
According to a recent study by job search website Simply Hired, almost 30% of all hiring managers go to LinkedIn to learn more about you, but even more shockingly, almost 40% of hiring managers will view all of your social media profiles as well.
That means almost half of every job you apply to will assign someone to screen your online profiles before even offering you an interview. 
If you were in the shoes of your new employer, would you want to hire yourself based solely on your online presence? LinkedIn is great for your professional stats, but digging deeper into your personal accounts gives new employers a truer sense of who they are hiring. 
2. You'll Stand Out for All The
Right
Reasons
Building up your online presence is a great way to stand out in a crowd. Creating a positive online reputation that puts emphasis on your knowledge, skills and expertise allows you to rise above your competition. 
Perfecting your online brand gives you the opportunity to put your best foot forward when introducing yourself to someone online for the first time. Once you develop your online presence in a way that showcases your talents, you have a leg up on others who might not have paid as much attention when publishing unflattering content online. 
When someone Googles your name and sees a results page filled with profiles and links that represent a tasteful and impressive brand, you are that much more likely to leave a lasting impression for all the right reasons. 
3. It helps People Trust You as an Individual 
Anyone who comes across your online presence is looking for a reason to trust you. Developing a personal brand geared towards allowing your audience to trust you, builds up your credibility online. 
Your audience is much more likely to invest their time, money and efforts in someone they can trust. Creating an online presence that reflects your professionalism and friendliness allows individuals to trust you in a matter of minutes.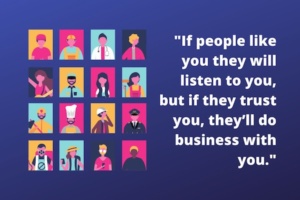 4. It Opens the Door to New Opportunities 
Investing in your online brand opens the doors to endless opportunities. In a world where your online results matter, making sure to build a favorable online presence can be your key to success. 
A strong personal brand can open the door to:
Personal Relationships 

Networking Opportunities

Jobs 

Interviews 

Promotions 

Internships 

College Acceptances
Defining Who You Are Online
Defining your own personal brand online gives you full control over what type of image you want others to see and feel when they view your presence online.
Building a personal brand that maximizes your best assets, highlights your talents and conveys your trustworthiness to an open audience gives you confidence and security knowing that your online results benefit you in more ways than one. 
Developing a strong personal identity online can help you get jobs, promotions, college acceptances, friends, relationships and other endless opportunities in life. Living with a poor or non-existent online presence could be negatively affecting your ability to succeed and reach your full potential. 
How to Build a Successful Personal Brand 
Successful personal branding can be broken down into three main categories - rebuilding your online presence, gaining credibility online, and connecting with your target audience. 
1 - Rebuild Your Online Presence
Google Yourself
Begin with Googling yourself and pay attention to:
What type of content pops up in your Google results

Are your social networking profiles up to par? 

Are there a few links that might be undermining your professionalism? 
Conduct an SEO Audit
Your name is what Google considers your "key word." When you type your name into Google, it will populate any result that it sees fit to help provide information on your name. That means any websites, blog posts, photos, links, likes and tweets will be sent right to Google if it contains a connection to your name. 
Create Your Content
Now that you have a better understanding of what lives online that is building your current online brand, it's time to improve it.
Content creation is your best friend when it comes to building a strong brand online. A branded website, professional blog posts, and social media monitoring can all help improve your online reputation long term.
The idea is to create content for yourself the same way a business would, expect instead of selling products and services, you're selling your skills and expertise. 
2 - Gain Credibility Online
Build Trustworthiness in Your Brand 
Once a brand identity is rebuilt based on someone's goals and specifications, the next step is gaining credibility behind the brand. It's one thing to build a branded image, but it's just as important to build the credibility of that branded image to ensure trust.
How do you ensure trust in your brand? By creating content driven along the lines of what type of message you're trying to convey. Every brand has a message, what's yours? Using your knowledge to position you as a thought leader in that area of expertise opens new doors to build your brand. 
Convey Consistency 
Ever heard the phrase, "knowledge is power?" That message continues to ring true, especially when you have access to valuable knowledge that could help educate others.    
By creating content consistently and sharing it with others in the right places, you attract the eyes of those who can help build credibility to your brand just by viewing it.
By sharing SEO (search engine optimization) driven blog posts, articles, social media posts, images, infographics, videos, interviews, podcasts and presentations, you position yourself as someone with valuable resources and  knowledge in any industry you choose. 
3. Connect with Your Target Audience
Defining your target audience becomes much easier when you aim to target these 3 different types of connections: 
Those who inspire you

Those who shares similar goals and interests

Those who could potentially open the door to your next opportunity 
Once you define your target audience, it's time to connect with them with the use of your new and improved personal brand. Social media platforms and other online networking sites are an easy way to connect with those who could offer a positive influence and help you reach your goals. 
Improve Networking with a Professional Brand 
Expanding and building a personal brand can help you make a positive lasting impression with the ones you network with online. This could be potential employers, potential clients, other industry professionals, or even personal relationships. 
By sharing your new brand with those that matter most, you have the ability to connect your online image to the people who could be holding the key that opens the door to your next big opportunity. 
How Social Media Can Impact Your Personal Brand 
Social media can either help or hurt your brand, and it all depends on how you present yourself on your social media accounts, and how you interact with others. 
Sometimes we often forget just how accessible our private information is on our public platforms. Who we are, our opinions, our views, what we like, what we don't like, where we've been, who we surround ourselves with - it all plays part in creating your personal brand on social media. 
Now, more than ever, it's important to choose what type of person you want to show others online. Remaining professional, like-able and trustworthy on your profile doesn't need to be a tedious, difficult task. 
Branding on Social Media 
Branding on social media becomes much easier when you create a personal branding strategy for yourself. Who do you want to be? What type of person do you want the world to see you as online.
Creating a plan for yourself allows you to gain control of your online presence with the help of your social media accounts. 
Think Before You Post
Before liking, posting, following, tweeting or engaging in any way on social media, ask yourself if it could help or hurt your brand image. If the action you're taking does not help your personal brand, stray away from it. 
Odds are a future hiring manager, college acceptance board, or even your boss and coworkers could easily view any public platforms you may have and begin to form an opinion on what type of person you appear to be, even if it's not in person. 
Delete Unwanted Material 
Find any sources of material that might not be supportive of what type of brand image you are trying to portray. Go through old posts, likes, follows, tweets. Etc. and delete any content that does not support your newly found brand image. 
Even the pages you follow, and you allow to follow you could either help or hurt your image. Try to only follow, and accept followers who share similar interests and you trust. 
Networking Yourself 
Get social by networking yourself on your social platforms. There's no hurt in connecting with others who inspire you. You never know who could potentially lead you to your next big opportunity. Networking online becomes easy when you are confident in your professional online profiles. 
Who Should Invest in Personal Branding? 
Personal branding can appear to be a daunting task at first glance, but taking the time to invest in yourself is a process that will help you for years and years to come. 
Personal brand management requires attention to organization based on a timeline of results. When done correctly, individuals have the ability to create a concrete plan of action to finally build that impressive online brand that's going to help them land jobs, networking opportunities and relationships. 
Entrepreneurs:

Establish brand awareness, get new clients, and increase sales.

Young Professionals:

Look the part, establish authority, and network effectively.

Industry Professionals:

Gain confidence, share your skills, and impress others. 
Ready for your next opportunity? Building your personal brand with the help of a professional guarantees your brand will be built for success, long term. Get started with Brand911 with a free consultation! We want to see you succeed, let's get started.